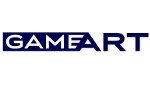 Night at KTV Slot Machine
Try GameArt Slots
KTV is short for Karaoke Television and that gives us hope that Night at KTV, the newest slot by GameArt will be nothing but fun. There was actually a TV music competition show called like that in 2001, based in Belize. Regardless of that, in our new slot Night at KTV, you will see microphones, luxury, expensive drinks and a lot of attractive Asian women and man that will provide you quite the performance.
Features
The Wild symbol in this slot will pay you the highest jackpot of 5,000 coins for a 5-of-a-kind. The Wild in the slot is the KTV symbol.
The Scatter symbol is the one presented with a woman's bosom with Bonus written over it. If you manage to land 3, 4 or 5 random Scatter symbols, you could get 9, 16 and 20 Free Spins, respectively. During the Free Spins, in addition to playing without betting, you get another beneficial feature, the Expanding Wilds. Landing more than one Expanding Wild will give you some great payouts, so pray for them to land and expand since you could a lot more than just 5,000 coins from them.
Theme & Design
There is so much to be said about the theme, so let's start with the backdrop. You will see a city, looking a lot like Vegas, but since the protagonists are Asian, we've assumed that the city in question is Macau. You will see the neon lights on entire buildings/hotels, you will see billboards with something written in Chinese on them, and in the bottom, behind the reels, you will see two super-expensive, luxurious cars.
Now, on the reels, you will see symbols that make you think of a lavish cabaret, instantly. There is a symbol representing a booth where people could sit and watch the girls singing, there is a microphone symbol, a symbol with Johnny Walker Black Label and a bottle of Dom Perignon, a symbol with an Asian woman Mama San and a symbol with an Asian male holding a drink and a cigar. There is also a symbol with three extremely attractive women wearing some really exposing clothes and there is also the billiard table symbol. Let's not forget the symbol that represents the entrance of the cabernet with the big flashing KTV letters on top.  
These symbols are presented with some high-end graphics and are designed beautifully, crafted with a lot of attention to detail.
Wagering & Paylines
You get 30 active paylines in Night at KTV, where bets vary from $0.20 the minimum and $60.00 the maximum bet. But, when you're placing a bet, you're placing it for every 2 lines, so that would actually mean that you're paying half the amount you'd normally do.
As mentioned, there is a 5,000 coin prize here, which would mean $300,000.00 for the maximum bet. But other multiple wins you obtain in a single round could pay up to $20,000.00, which is pretty nice. The RTP is unknown still, but it will probably be generous.
Verdict
You will definitely enjoy the graphics and the symbols in this slot, since they're fun, they're suitable for adults in comparison with many cartoonish slots of lately, and any player can relate to them in one way or another. As for the payouts, they look pretty appealing as well, and although there are not as many features present as you would expect, the ones which are present give significant payouts.